| | |
| --- | --- |
| | Convert Video to H.264/MPEG-4 AVC |
---
Total Video Audio Converter converts more than 100 media foramts to H.264. The software supports batch conversion and, is full compatible with 32-bit and 64-bit editions of Vista and Windows 7.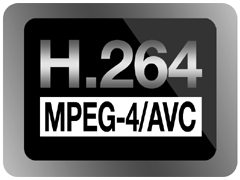 H.264/MPEG-4 Part 10 or AVC (Advanced Video Coding) is a standard for video compression, and is currently one of the most commonly used formats for the recording, compression, and distribution of high definition video. The final drafting work on the first version of the standard was completed in May 2003.
H.264/MPEG-4 AVC is a block-oriented motion-compensation-based codec standard developed by the ITU-T Video Coding Experts Group (VCEG) together with the ISO/IEC Moving Picture Experts Group (MPEG). It was the product of a partnership effort known as the Joint Video Team (JVT). The ITU-T H.264 standard and the ISO/IEC MPEG-4 AVC standard (formally, ISO/IEC 14496-10 - MPEG-4 Part 10, Advanced Video Coding) are jointly maintained so that they have identical technical content.
H.264 is perhaps best known as being one of the codec standards for Blu-ray Discs; all Blu-ray players must be able to decode H.264. It is also widely used by streaming internet sources, such as videos from Vimeo, YouTube and the iTunes Store, web software such as the Adobe Flash Player and Microsoft Silverlight, broadcast services for DVB and SBTVD, direct-broadcast satellite television services, cable television services, and real-time videoconferencing.
The H.264 video format has a very broad application range that covers all forms of digital compressed video from low bit-rate Internet streaming applications to HDTV broadcast and Digital Cinema applications with nearly lossless coding. With the use of H.264, bit rate savings of 50% or more are reported. For example, H.264 has been reported to give the same Digital Satellite TV quality as current MPEG-2 implementations with less than half the bitrate, with current MPEG-2 implementations working at around 3.5 Mbit/s and H.264 at only 1.5 Mbit/s. To ensure compatibility and problem-free adoption of H.264/AVC, many standards bodies have amended or added to their video-related standards so that users of these standards can employ H.264/AVC.
Convert Video to H.264/MPEG-4 AVC:

Free Download Video to H.264 Converter