| | |
| --- | --- |
| | Convert Video to OGG Theora |
---
OGG Video Converter converts any video formats to OGG (Theora + Vorbis) file. The software supports batch conversion and, is full compatible with 32-bit and 64-bit editions of Windows 10/8/7/Vista/XP/2000.
Install the Program by Step-by-step Instructions
Launch OGG Video Converter by Clicking Start -> All Programs -> OGG Video Converter -> OGG Video Converter
Choose Files


Click "Add Files" to choose files.

The software supports 3G2, 3GP, 3GP2, 3GPP, 4XM, AAC, AC3, ADTS, ADX, AFC, AIF, AIFC, AIFF, ALAW, AMR, AMV, APE, ASF, AU, AVI, AWB, CAF, CDATA, CIF, DIF, DIVX, DNXHD, DRC, DTS, DV, DVD, DVR-MS, DXA, EAC3, FLAC, FLC, FLI, FLIC, FLV, FLX, GSM, GXF, H.261, H.263, H.263+, H.264, M1A, M1V, M2A, M2T, M2TS, M2V, M4A, M4B, M4R, M4V, MJ2, MJPEG, MJPG, MKA, MKV, MLP, MLV, MMF, MOV, MP1, MP2, MP3, MP4, MPA, MPC, MPE, MPEG, MPG, MPGA, MPP, MPV, MTS, MTV, MVI, MXF, NSA, NSV, NUT, NUV, OGA, OGG, OGM, OGV, OGX, OMA, PSP, PSX, PVA, QCIF, QCP, QT, RA, RAM, RCV, RGB, RM, RMVB, ROQ, RPL, SDP, SHN, SMK, SND, SOL, SOX, SPX, STR, SWF, THD, TS, TTA, VC1, VFW, VID, VMD, VOB, VOC, VQF, W64, WAV, WAVE64, WM, WMA, WMD, WMV, WV, XA, XVID, XWMV, Y4M, and YUV.


Choose one or more files you want to convert and then click Open. OGG Video Converter will open the files and get information such as width, height, frame rate, video bit rate, audio sample rate, audio bit rate, audio channels, and then list the information at conversion list.




Choose Output Format

You can click on combo box of output format and then choose one of the following formats.


to 3G2
to 3GP
to ASF
to AVI
to DivX (*.avi)
to DV
to FLV
to H.264 (*.mp4)
to M4V
to MKV
to MOV
to MP4
to MPG / MPEG (*.mpg)
to OGG
to OGM
to OGV
to SWF
to TS
to VCD (*.mpg)
to VOB (DVD Video) (*.vob)
to WebM (*.webm)
to WMV
to Xvid (*.avi)
to Apple TV (*.m4v)
to Archos (*.mp4)
to BlackBerry (*.mp4)
to Creative ZEN (*.mp4)
to iPad (*.m4v)
to iPhone (*.m4v)
to iPod (*.m4v)
to iPod touch (*.m4v)
to iRiver (*.mp4)
to PS3 (*.mp4)
to PSP (*.mp4)
to Wii and DS (*.avi)
to Xbox 360 (*.wmv)
to Zune (*.wmv)
to AAC
to AAC for iPod/iPhone/iPad/iTunes/DSi (*.m4a)
to AC3
to AIFF
to ALAC (Apple Lossless) (*.m4a)
to AMR
to AU
to CAF (Core Audio Format)
to DTS
to FLAC
to M4A (MPEG-4 audio) (*.m4a)
to M4B (MPEG-4 audiobook) (*.m4b)
to M4R (iPhone ringtone) (*.m4r)
to MKA
to MMF
to MP2
to MP3
to MPA
to OGG (audio track) (*.ogg)
to SPX (Speex)
to VOC
to WAV
to WMA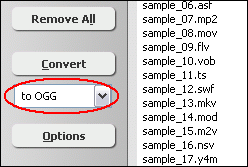 Start to Convert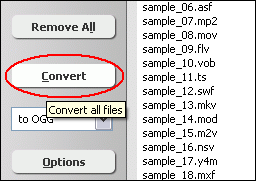 Click "Convert" to convert all files in list to output format.




The software is converting files.


Play & Browse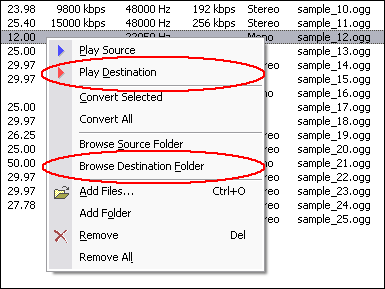 When conversion completes, you can right-click converted item and choose "Play Destination" to play the outputted file; or choose "Browse Destination Folder" to open Windows Explorer to browse the outputted file.


Done
Top
---

Free Download OGG Video Converter
Convert Video to OGG Related Topics: