| | |
| --- | --- |
| | Convert MOV to JPG/JPEG Sequence |
---
JPG/JPEG is a commonly used method of lossy compression for digital photography (image). The degree of compression can be adjusted, allowing a selectable tradeoff between storage size and image quality. JPEG typically achieves 10:1 compression with little perceptible loss in image quality.
MOV to JPG/JPEG Converter Software converts MOV to JPG/JPEG sequence files. So, you could get every frame image of MOV in JPG/JPEG format. You can also set output frame rate and JPG/JPEG resolution in the software. The output JPG/JPEG files look something like the following screen shot.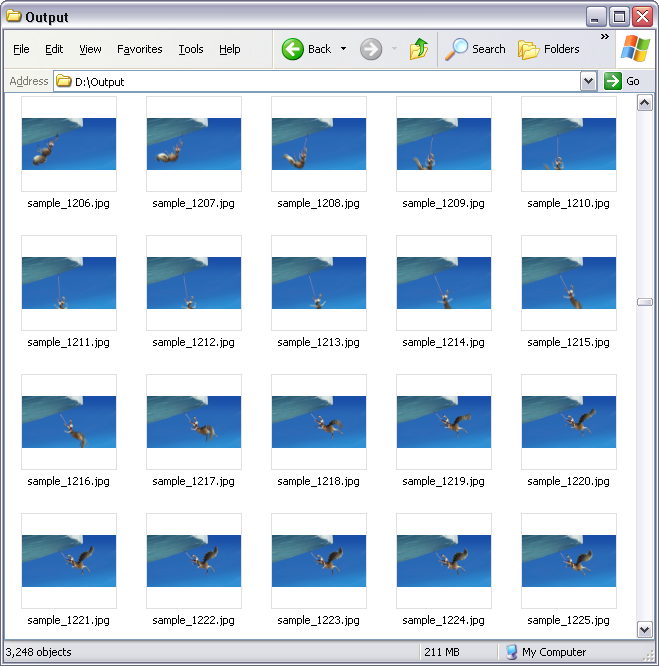 The software also supports other formats and portable devices such as CAF (Core Audio Format), Windows Phone, MKV, WebM (VP8), M4V, AU, MP2, etc. The software could convert FLV to M4A (MPEG-4 audio), WMV to SPX (Speex), 3G2 to DivX, 3GP to AMR, DAT to MKV, and so on.
MOV to JPG/JPEG Software supports batch conversion and, is compatible with Windows 10/8/7/Vista/XP/2000.

What is MOV?
Video files encoded in the MOV file format are in a proprietary format developed by Apple. MOV files are used by Apple Quicktime player, which is a specific video player for Apple. So, if you have a video on an IPOD type device that ends in ".mov", or if you have such a file on your computer, it may not be compatible with other types of players, especially simpler ones. In order to use a MOV file in a player that needs a more compatible format such as MPEG, you must do a conversion. QuickTime movie files, which have the file extension .mov, are among the primary video files that work with Apple's iMovie. The iMovie video-editing software comes standard with Apple computers. Importing a movie file into the application and editing it by cutting, pasting and adjusting the audio/video are all simple processes. You can then take the edited movie and save it in a new file, be it in .mov or some other format. Quicktime is a multimedia development, storage, and playback technology from Apple. MOV files are played on a QuickTime Video player. QuickTime player is a free media player developed by Apple and is available for Windows and Mac OS X systems. This easy-to-use player allows you to play your MOV files of different sizes and aspect ratios at high resolutions. Watch your standard or high-definition MOV files in the best way possible. Open and view the .mov file using the default media player installed on your system. The regular (and free) version of Quicktime allows you to play these files from any source--you can play files on your hard drive or ones embedded into web pages on the Internet. Other media programs and digital devices, including Windows Media Player and many digital cameras, also use the format to store video files.
What is JPG?
Short for Joint Photographic Experts Group, and pronounced jay-peg. JPEG is a lossy compression technique for color images. Although it can reduce files sizes to about 5% of their normal size, some detail is lost in the compression. JPEG images are commonly used for Web graphics and for storing photos taken with digital cameras. They are usually saved with a .JPG extension. JPEG standards are formally named as Information technology - Digital compression and coding of continuous-tone still images. Motion JPEG 2000 (often referenced as MJ2 or MJP2) also is under consideration as a digital archival format by the Library of Congress. It is an open ISO standard and an advanced update to MJPEG (or MJ), which was based on the legacy JPEG format. Unlike common video formats, such as MPEG-4 Part 2, WMV, and H.264, MJ2 does not employ temporal or inter-frame compression. Instead, each frame is an independent entity encoded by either a lossy or lossless variant of JPEG 2000. Its physical structure does not depend on time ordering, but it does employ a separate profile to complement the data. For audio, it supports LPCM encoding, as well as various MPEG-4 variants, as "raw" or complement data. Within the entropy-coded data, after any 0xFF byte, a 0x00 byte is inserted by the encoder before the next byte, so that there does not appear to be a marker where none is intended, preventing framing errors. Decoders must skip this 0x00 byte. This technique, called byte stuffing, is only applied to the entropy-coded data, not to marker payload data. Note however that entropy-coded data has a few markers of its own; specifically the Reset markers (0xD0 through 0xD7), which are used to isolate independent chunks of entropy-coded data to allow parallel decoding, and encoders are free to insert these Reset markers at regular intervals (although not all encoders do this).
How to Convert MOV to JPG/JPEG Sequence?
Install the Program by Step-by-step Instructions
Launch MOV to JPG/JPEG Software
Choose MOV Files


Click "Add Files" to choose MOV files.


Choose one or more MOV files you want to convert and then click Open. MOV to JPG/JPEG Software will open MOV files and get file information of the file such as width, height, frame rate, video bit rate, audio sample rate, audio bit rate, audio channels, and then display the information of MOV file at conversion list.

Choose Output Format


Click on combo-box of output format and then choose "to JPG (image sequence)".

[Optional, for advanced user] Set JPG Encoding Parameters


If you want to change JPG encoding parameters such as frame rate, video size, aspect ratio, and so on, please click "Options".


And then, switch to tab "Video & Audio" and choose "JPG (image sequence)" at "Output Format", and then set options for image encoding.

Convert MOV to JPG/JPEG


Click "Convert" to convert MOV to JPG/JPEG sequence.


The software is converting MOV files to JPG/JPEG.

View and Browse JPG/JPEG Files


When conversion completes, you can right-click converted item and choose "Play Destination" to view the first outputted JPG file; or choose "Browse Destination Folder" to open Windows Explorer to browse the outputted JPG files.

Done
Top
---

Free Download MOV to JPG/JPEG Software
MOV to JPG/JPEG Software is 100% clean and safe to install. It's certified by major download sites.


Convert MOV to JPG/JPEG Related Topics: