| | |
| --- | --- |
| | Convert WMV to Still Image/Picture Sequence |
---
WMV to Image/Picture Converter Software extracts still image/picture from WMV video frame and save as JPG, BMP, PNG, TIFF, PCX, TGA, and so on formats. It's an ideal software to make image/picture galleries from your WMV video files.
The software is a small, handy, and extremely fast utility for converting WMV to image/picture. You could convert WMV to image/picture sequence in a couple of clicks. The output images/pictures look like this.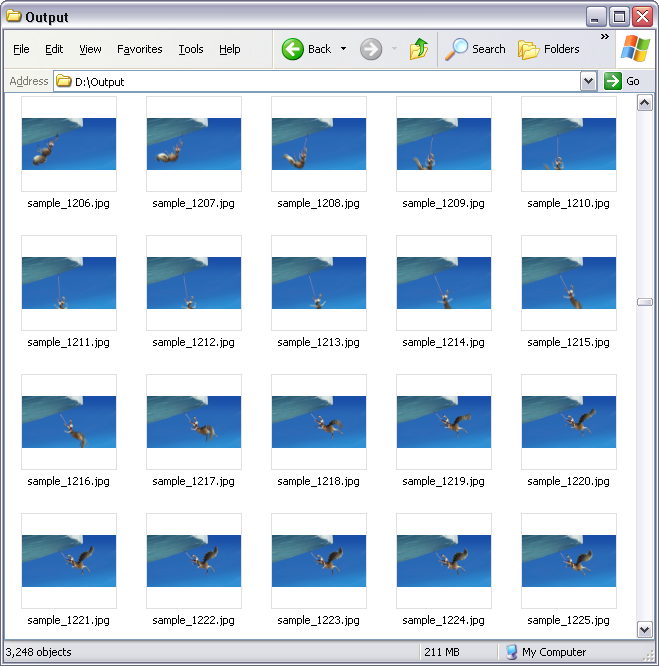 WMV to Image/Picture Converter Software is also a video and audio converter that supports common formats and portable devices such as Archos, PS3, PSP, BlackBerry, M4V, DV, MPA, M4R, AC3, AMR, etc. The software could convert MKV to Creative ZEN, WMV to PSP, MPEG to SWF, FLV to OGV, MPEG to AMR, VOB to iPhone, 3GP to WAV, 3GP to DivX, and so on.
WMV to Image/Picture Converter Software works on Windows 10/8/7/Vista/XP/2000.

What is WMV?
Windows Media Video (WMV) is a format that Microsoft developed for Internet streaming and watching videos on a PC. This is a type of video that can be played on computers and portable media players. A WMV file¡¯s most important feature is that its format allows large video files to be compressed, thereby retaining rich video quality. It is a file format developed to store video content in a compressed format, so that movies and other video programs can be viewed on a personal computer. These videos can be watched from the computer hard drive or other media players. To play a WMV file, a set of codecs is required. A codec is a program that can easily read a file, creating video and audio formats from the provided data. WMV files may be played on Microsoft Windows Media Player and other media players as well. The latest WMV version is WMV10.
A WMV file is in most circumstances encapsulated in the Advanced Systems Format (ASF) container format. The file extension .WMV typically describes ASF files that use Windows Media Video codecs. The audio codec used in conjunction with Windows Media Video is typically some version of Windows Media Audio, or in rarer cases, the deprecated Sipro ACELP.net audio codec. Microsoft recommends that ASF files containing non-Windows Media codecs use the generic .ASF file extension.
Windows Media Video's main features are:
Data delivery over a wide variety of network protocols
Suitable for local playback
Advanced multimedia capabilities:
Extensible media types
Component download
Scalable media types
Stream prioritization as the author defines
Support for multiple languages
Document and content management
How to Convert WMV to Still Image/Picture Sequence?
Install the Program by Step-by-step Instructions
Launch WMV to Image/Picture Converter Software
Choose WMV Files


Click "Add Files" to choose WMV files.


Choose one or more WMV files you want to convert and then click Open. WMV to Image/Picture Software will open WMV files and get file information of the file such as width, height, frame rate, video bit rate, audio sample rate, audio bit rate, audio channels, and then display the information of WMV file at conversion list.

Choose Output Image/Picture Format


Click on combo-box of output format and then choose an image format you like. You could convert WMV to JPG/JPEG, BMP, PNG, PCX, PGM, PPM, SGI, TGA, and TIFF. The common image format is JPG; however the JPG is a lossy format. The PNG another common image format and it's lossless.

[Optional, for advanced user] Set Image/Picture Encoding Parameters


If you want to change image/picture options please click "Options".


And then, switch to tab "Video & Audio", and then set options for image encoding such as image size, frame rate, aspect ratio, rotate image, flip image, etc.

Convert WMV to Image/Picture


Click "Convert" to convert WMV to image/picture sequence.


The software is converting WMV files to image/picture.

View and Browse Image/Picture Files


When conversion completes, you can right-click converted item and choose "Play Destination" to view the first outputted image/picture file; or choose "Browse Destination Folder" to open Windows Explorer to browse the outputted image/picture files.

Done
Top
---

Free Download WMV to Image/Picture Software
WMV to Image/Picture Software is 100% clean and safe to install. It's certified by major download sites.


Convert WMV to Image/Picture Related Topics: