| | |
| --- | --- |
| | Convert Movie to JPG/JPEG Sequence |
---
Sometimes we need a few images from a movie, and then save the images as JPG and email to someone or share them on Internet. However, we get a blank black image when pressing key "PrtScn/SysRq" on keyboard and then pasting on Paint. There's an easy way to capture every frame from movie and save as JPG.
Movie to JPG/JPEG Conversion Software converts movie to JPG/JPEG files frame-by-frame. The software supports almost any movie formats such as 3G2, 3GP, ASF, AVI, DAT, DIVX, DVD, DVR-MS, EVO, FLV, H263, H264, M2TS, M4V, MKV, MOD, MOV, MP4, MPEG, OGG, OGV, RM, TS, VOB, WebM, WMV, XVID, and so on. You can also set output frame rate and JPG/JPEG resolution in the software. The output JPG/JPEG files look something like the following screen shot.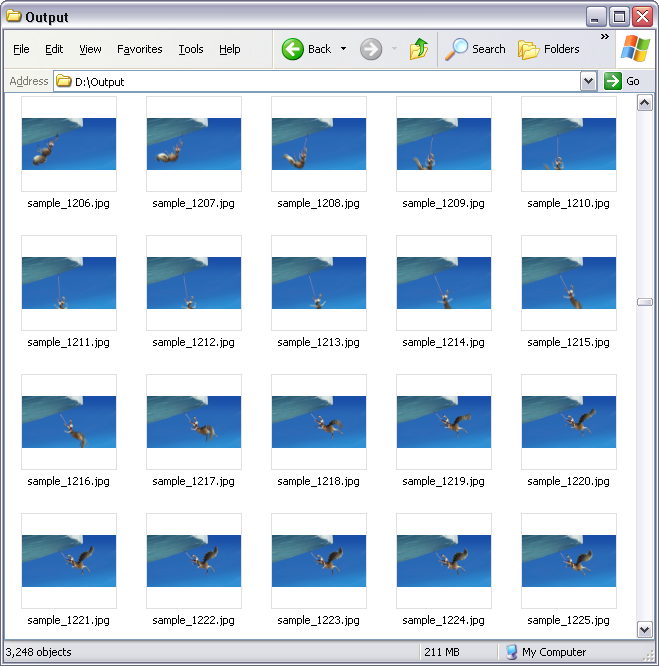 Movie to JPG/JPEG Software supports batch conversion and, is compatible with Windows 10/8/7/Vista/XP/2000.

JPG/JPEG stands for Joint Photographic Experts Group. It is a standard method of compressing photographic images. We also call JPEG the file format which employs this compression. TIF, PNG, GIF, BMP and most other image file formats are lossless too. This integrity requirement does limit efficiency, limiting compression of photo image data to maybe only 10% to 40% reduction in practice (graphics can be smaller). But most compression methods have full lossless recoverability as the first requirement. JPEG Stereoscopic (JPS, extension .jps) is a JPEG-based format for stereoscopic images. It has a range of configurations stored in the JPEG APP3 marker field, but usually contains one image of double width, representing two images of identical size in cross-eyed (i.e. left frame on the right half of the image and vice versa) side-by-side arrangement. This file format can be viewed as a JPEG without any special software, or can be processed for rendering in other modes. For traditional JPEG, additional metadata, e.g. lighting and exposure conditions, is kept in an application marker in the Exif format specified by the JEITA. JPEG 2000 chooses a different route, encoding the same metadata in XML form. The reference between the Exif tags and the XML elements is standardized by the ISO TC42 committee in the standard 12234-1.4. While there is a modest increase in compression performance of JPEG 2000 compared to JPEG, the main advantage offered by JPEG 2000 is the significant flexibility of the codestream. The codestream obtained after compression of an image with JPEG 2000 is scalable in nature, meaning that it can be decoded in a number of ways; for instance, by truncating the codestream at any point, one may obtain a representation of the image at a lower resolution, or signal-to-noise ratio.
How to Convert Movie to JPG/JPEG Sequence?
Install the Program by Step-by-step Instructions
Launch Movie to JPG/JPEG Software
Choose Movie Files


Click "Add Files" to choose movie files.


Choose one or more movie files you want to convert and then click Open. Movie to JPG/JPEG Software will open movie files and get file information of the file such as width, height, frame rate, video bit rate, audio sample rate, audio bit rate, audio channels, and then display the information of movie file at conversion list.

Choose Output Format


Click on combo-box of output format and then choose "to JPG (image sequence)".

[Optional, for advanced user] Set JPG Encoding Parameters


If you want to change JPG encoding parameters such as frame rate, video size, aspect ratio, and so on, please click "Options".


And then, switch to tab "Video & Audio" and choose "JPG (image sequence)" at "Output Format", and then set options for image encoding.

Convert Movie to JPG/JPEG


Click "Convert" to convert movie to frame-by-frame JPG/JPEG.


The software is converting movie files to JPG/JPEG.

View and Browse JPG/JPEG Files


When conversion completes, you can right-click converted item and choose "Play Destination" to view the first outputted JPG file; or choose "Browse Destination Folder" to open Windows Explorer to browse the outputted JPG files.

Done
Top
---

Free Download Movie to JPG/JPEG Software
Movie to JPG/JPEG Software is 100% clean and safe to install. It's certified by major download sites.


Convert Movie to JPG/JPEG Related Topics: